CCMSI Privacy Notice
At CCMSI, your privacy is important to us. We want you to know that:
We do not sell or rent to anyone the personal information you have provided to us.
We do not share your personal information with companies who want to market their products or services to you.
You do not need to contact us to benefit from our privacy protections.
To help you understand how we protect your personal information, this notice describes our current privacy policy and practices.
Types of Information We May Collect
As required to provide our claim administration services, we must collect personal information.  The information we collect is limited to that required for the services provided.  We may collect your name, address, telephone number.  We may also collect additional non-public information such as social security number, health or employment history and we may collect information necessary to confirm your identity.
We may gather information about you from sources such as:
Claim forms;
Written, electronic, telephone and other communications from you;
Medical providers, and other companies such as your employer; and
Your current and previous claims.
Information Security
We restrict access to nonpublic personal financial information about you to those employees who need to know that information to provide services. We maintain physical, electronic and procedural safeguards that comply with federal and state regulations to guard your non-public personal information.
Contact Information
If you have any questions, you may contact the CCMSI Information Security Officer.
This notice is provided by Cannon Cochran Management Services, Inc. CCMSI is acting only as a claim management service provider and nothing in this notice should be interpreted that CCMSI is acting on your individual behalf.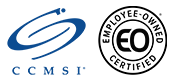 CCMSI is an Affirmative Action / Equal Employment Opportunity Employer