Fast Track Your Claims Career
The CCMSI LevelUP Career Development Program is designed for individuals who want to apply their critical thinking, analytical, and customer service skills to an engaging career in the insurance industry. Through this immersive program, you will develop foundational skills and be prepared to take on advanced professional roles within the company.
LevelUP generally takes one year to complete and comprises four phases that include work shadowing, eCourses, planned experiences, and assessments. Each phase establishes competency building blocks, such as learning CCMSI Best Practices, the basics of claims handling, how to conduct investigations, and opportunities to attend legal and claim reviews.
You will work side by side with some of the most respected professionals in the field, who will be with you every step of the way to answer questions, share their knowledge, and help you forge your career path. To ensure your success and prepare you for the next phase, you will receive feedback and be evaluated on your claims-handling comprehension and ability to apply the skills you've learned.
LevelUP employees start at $40,000 a year and receive a salary increase in Phase 3 to $45,000. Upon graduation, employees are promoted to claim representative I with an annual salary between $50,000 to $60,000.
Not only will you be building a rewarding career with opportunities for growth, but you'll be doing it with a Great Place to Work®. For the sixth consecutive year, CCMSI has been certified as a company culture leader by the analysts at Great Place to Work®. CCMSI fosters an inclusive and welcoming environment where its employees are given the resources and support to hone their skills and grow as individuals and professionals. As part of a 100% employee-owned ESOP company, you will be a partner and owner of one of the most respected organizations in the industry. Click here to see what CCMSI employees have to say!
Apply to the LevelUP Career Development Program today to learn with the best—from the best.
Claims Representative Certificate Program
CCMSI and Danville Area Community College (DACC) have partnered to offer an exciting opportunity to jumpstart your claims-adjusting career. DACC's thirty-credit-hour Claims Representative Certificate program equips graduates for a successful claims career with courses that cover the latest policies and procedures and emphasizes real-world experience through work shadowing and on-the-job training.
Students will benefit from an outstanding curriculum and expert instruction—both inside and outside the classroom—and graduate with confidence, a solid claims-handling foundation, and invaluable real-world application. After graduation, you will be prepared to work as a claim adjuster in any of CCMSI's thirty-four offices nationwide and eligible to apply for a paid internship.
Earn While You Learn With CCMSI
Following the completion of Terms 1 and 2, CCMSI's eight-week, $16-per-hour internship will allow you to engage with industry leaders in a hands-on learning environment to nurture, develop, and apply your skills.
To be eligible for the program, candidates must:
Pass a thorough criminal background check
Maintain a minimum GPA of 3.0 on a 4.0 scale
Maintain a 90% attendance rate for the duration of the program
Financial Aid
Financial aid is available through DACC, including Federal Pell and MAP grants and the Federal College Work-Study and Federal Supplemental Educational Opportunity Grant programs. In addition, you may qualify for support through Vermilion County Works, which covers the cost of tuition and other related expenses you may incur during the LevelUp Career Pathway Program, such as transportation and childcare. Contact Vermilion County Works for eligibility requirements and further details.
Click the link below to learn more about the Claims Representative Certificate Program at DACC.
CCMSI Claims Representative Program at DACC
Why Should You Choose CCMSI?
Ready to start your journey?
Click here to find current LevelUP claim associate position openings.
Do you live in the Danville area?
Click here to learn about our partnership with Danville Area Community College's Claims Representative Certificate program.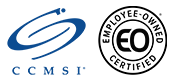 CCMSI is an Affirmative Action / Equal Employment Opportunity Employer