Develop Your Potential
CCMSI-U is an internship program for College students looking to get a head start on their career development. If accepted into the CCMSI-U program, you'll be introduced into CCMSI's culture and learn about our Core Values & Principles while being trained on CCMSI's proprietary claims system and partnering with a seasoned claims staff for training and development.
An internship for college students at CCMSI empowers you to interact with Senior Level Adjusters to build relationships with our clients, while developing your potential with hands-on experience in the claims industry and opening the door for career opportunities.
What to Expect
Upon joining CCMSI-U and coming onboard with CCMSI in our paid internship program, here is what you can expect.
You will be:
Introduced into our culture and learn our Core Values & Principles
Thoroughly trained on CCMSI's proprietary claims system
Partnered with seasoned claims staff for training & development on claim handling procedures, best practices, & other industry-related items
Upon completion of the CCMSI-U Program:
You will be well versed and have hands-on experience with how CCMSI conducts its business
You will be ready to work full time in a professional claims position
It is the intent of CCMSI to transition successful interns to full-time employment with a possible sign-on bonus and 2-year commitment to the company
Candidate Requirements
Current enrollment at identified College or University in Insurance or Risk Management Program in good standing at a Sophomore, Junior, or Senior level
Postgraduates who have completed College or University with a focus on an Insurance or Risk Management Program
Minimum GPA of 4.0 on 5.0 scale or 3.0 on 4.0 scale
One (1) positive instructor or professor reference
Candidate Responsibilities
The intern would be responsible for obtaining specific details for college credit towards their graduation requirements at their College and/or University
The intern would be responsible for supplying CCMSI's Human Resources department with their updated transcripts to remain eligible for the internship program. (i.e. GPA requirements)
It would be expected that the intern work a minimum of 5 hours per day and a minimum of 3 days per week
Upholding CCMSI's Core Values, best practices, policies and procedures, and full compliance with the CCMSI-U Program
Are You Ready to take your career and "LAUNCH IT" with CCMSI?
No matter which career path you choose to take, let CCMSI help you "LAUNCH IT" with CCMSI-U.
Loss Control
CCMSI's Loss Control Representatives work hard to partner with our clients to improve safety on the job including on-site evaluations, program development assistance, and providing training for our client's employees for a wide range of industries.
Accounting
CCMSI's Accounting staff works closely with our clients and internally with management to provide the solutions, answers, and financial data.
Underwriting
CCMSI's Underwriting staff communicates with a host of people to investigate, manage, and analyze risk. Underwriting maintains policyholder information, analyzes premium, payroll and loss ratios for our clients.
Nurse Case Management
CCMSI's Nurse Case Management lowers cost, improves care, and helps injured employees return to work sooner. Nurse Case Managers work with the nurse involved to establish and oversee a medically appropriate and cost-effective treatment plan to achieve optimal results.
Claims Administration
CCMSI's Claims Staff communicates with a host of people to investigate, manage, and resolve claims. CCMSI recruits the best claim professionals and works hard to keep them by limiting individual caseloads and giving the resources needed to make sure each case gets the attention it deserves.
Human Resources
CCMSI's Human Resources serves as a strategic business partner in the areas of Talent Acquisition and Employee Engagement & Retention and is responsible for the development of employment policies and practices in accordance with applicable state and federal regulations.
Information Technology
CCMSI's Information Technology staff is comprised of two divisions: Hardware & Software specialists. Both divisions support learning and encourage professionalism.
CCMSI's "Going Green" Initiatives
CCMSI believes that applying green processes to the workplace creates a healthy environment for employees, reduces unnecessary waste and recognizes the role that businesses play in leading the way for social change. CCMSI participates in many "going green" initiatives including:
Using a paperless proprietary claims management system
Transitioning all Human Resources processes from a lengthy paper process to a digital process (Including new hire paperwork, payroll forms, interview notes, & more)
Offering recycling bins at office locations
Moving from paper desk calendars to Outlook calendars
CCMSI's "Giving Back" Initiatives
CCMSI also believes the workplace is the ideal environment to promote volunteerism, whether activities involve the entire team or simply encourage individuals to engage in the community. CCMSI employees engage in "giving back" to the community by:
Community blood drives
Volunteering
Raising money for worthy causes & awarenesses
Participating in community held events (5K Races, Obstacle Courses, And More)
Disaster relief fund to support areas impacted by a catastrophic event or employees who may have experienced a catastrophic loss due to a natural disaster
CCMSI's "Employee Wellness" Initiatives
CCMSI provides our employees a multitude of wellness programs to enhance their lives both in and out of the workplace.
Physical Wellness – CCMSI offers our employees and their families a comprehensive benefits program in a safe work environment to encourage healthy lifestyle choices and physical well-being.
Financial Wellness – CCMSI provides a broad range of benefits and offerings to assist employees in preparing for a secure financial future.
Life Wellness – CCMSI is committed to ensuring employees maintain a healthy work/life balance to reduce stress, by offering a variety of programs aimed at supporting overall work/life wellness.
Community Wellness – CCMSI encourages employees to give back to the communities in which they live. We offer opportunities for employees to become involved in their communities by sponsoring a number of charity based community programs that give back to those less fortunate.
Why should you choose CCMSI?
CCMSI wants to give you the opportunity to join the internship program.
All of our office locations are ready to bring you onboard to assist in preparing you for your professional life after college.
Email Our CCMSI-U Team
Don't see a location close to you? Send us an email and let us know what you are interested in and where you'd like to see CCMSI-U expanded.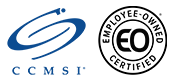 CCMSI is an Affirmative Action / Equal Employment Opportunity Employer