Delivering What Matters Most
We understand every client has unique visions and goals.
At CCMSI, we deliver solutions that achieve results.
CCMSI Reponse Plan: COVID-19
With the heightened concern about a potential 2019 Novel Coronavirus (COVID-19) outbreak, below is a summary of CCMSI's current response and plan. Since the situation remains fluid, we will continue to monitor and update as appropriate based on the latest news concerning the outbreak and CDC guidance.
• CCMSI is vigilantly monitoring the progression of COVID-19.
• While the news of the virus and its implications for the health of many around the world is concerning, please be assured that the ability to service our clients and the safety and well-being of our employees are our top priorities.
• CCMSI is ready to implement business continuity plans in the event of a widespread outbreak that may be disruptive to business operations relating to a particular service or at a particular locale.
In this regard, we have:
o Planned for an increased number of employees to be able to work from home and/or at alternative locations as needed.
o Planned for certain services to be covered by alternate locations that are not impacted by an outbreak.
o Increased cleaning and sanitation at each of our locations.
o Increased awareness of COVID-19 and recommended precautions among employees.
o Requirement that employees who have symptoms of acute respiratory illness stay home and not come to work until they are free of fever (100.4° F [37.8° C] or greater using an oral thermometer), signs of a fever, and any other symptoms for at least 24 hours, without the use of fever-reducing or other symptom-altering medicines (e.g. cough suppressants).
o Suspension of all non-essential travel (effective 3/9/2020) including onsite client meetings.
As the situation continues to be fluid, we continue to encourage our employees and customers to check:
o The CDC website for the latest information on travel advisories as they relate to the spread of the virus at: https://www.cdc.gov/coronavirus/2019-ncov/travelers/index.html.
o U.S. Department of State website for the latest information on travel advisories at: http://bit.ly/3a9n8oh.
Delivering What Matters Most
From increasing costs to growing regulations — when the risks are clear, you need a solution that's clearly better. And for more than thirty years, that's what we've delivered, providing innovative risk management solutions that have helped some of the world's best-known companies reach higher while risking less.
Access your information anytime, anywhere! Designed for iPhone, iPad, and Android.
iCE Risk Management Information System
With iCE, you have the ability to enhance and better manage your risk management processes by utilizing the following analysis and reporting features.
In this presentation, we address common sources of adjuster turnover and our approach to solving them.
CCMSI's iCE system is best in class in both analytical capabilities and ease of use. Intuitive and user friendly, it serves the needs for clients of all technological levels.
Lauren Moore
Senior Claims Analyst
AmWINS Specialty Casualty Solutions
I am thoroughly impressed with iCE. It is the most user-friendly RMIS system I have ever worked with. And I have worked with them all up until CCMSI.
Benjamin Wines-Brackett
Claim Account Executive
Risk Solutions Group
McGRIFF, SEIBELS & WILLIAMS, INC.
Controlling our workers' compensation costs are a crucial factor in our claims management strategy. Our team finds the CCMSI employees, system and services to be fast and efficient. We cannot express how impressed we are with the claims handling and the quality of service they provide.
Denise K Evans
Director of Workers' Compensation Claims
Staffmark
We have experienced significant value in our auto and general liability and workers compensation as a result of an exceptional claim team and best practices through our partnership with CCMSI.
Mack Savage, Vice President Corporate Insurance
John Bradley, Senior Vice President, Corporate Insurance
US Bank
I have been a heavy user of multiple RMIS systems and can emphatically state that iCE leads the pack. First and foremost the system is set up to be intuitive for the user which makes all of its capabilities easy to access. Secondarily, as a Risk Management department with heavy reporting responsibilities, it is welcome to use a system where key data is easily found and mined. Reports are a snap to build and disseminate. All in all, I am super impressed by iCE!
Matthew Wright, ARM, AIC, CLSS
Director – Risk Management
KAR Auction Services, Inc.
Request a Demo
Having trouble getting the data you want on your system? If your systems are falling flat, dragging on efficiency, accountability, and organization - let us know and we can arrange onsite demonstration and education sourced from 30 years of experience.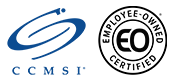 CCMSI is an Affirmative Action / Equal Employment Opportunity Employer