Common Vision
When hiring, CCMSI looks for the best and the brightest; as our experience has shown that talented individuals are committed to lifelong learning. We don't work in silos, we work as teams to produce remarkable results for our clients. We are united by a common vision of excellence, we work closely with others to create a unified team and happy customers. To accomplish these goals, it is our promise to provide our people with the great tools and the appropriate support needed to succeed.
We believe in providing an environment where employees enjoy coming to work every day, are provided the resources needed to perform their job, and claims staff are assigned manageable caseloads.
CCMSI's Core Values and Principles
Our Culture
At CCMSI, our Core Values are embedded into our culture of how we treat our employees as valued partners, how we consistently demonstrate integrity, passion and enthusiasm for doing what is best for our clients by searching for the best ideas and approaching change as an opportunity. We believe in providing an environment where employees enjoy coming to work every day, are provided the resources needed to perform their job, and claims staff are assigned manageable caseloads—all while providing our staff with market-competitive benefits and compensation packages.
If you are a professional who is interested in joining a company that is committed to passion and integrity, CCMSI may be the place for you.
CCMSI is a certified Great Place to Work!
Great Place to Work
Cannon Cochran Management Services, Inc. (CCMSI) has been certified as a great workplace by the independent analysts at Great Place to Work®. CCMSI earned this credential based on extensive ratings provided by its employees in anonymous surveys.
A summary of these ratings can be found at http://reviews.greatplacetowork.com/ccmsi.
 "At CCMSI, our Core Values are embedded into our workplace culture where employees are valued partners who consistently demonstrate integrity, passion, and enthusiasm as part of our common goal to deliver what matters most to our clients.  We are thrilled to achieve this prestigious designation a second consecutive year in a row, which validates the exceptional workplace we have at CCMSI".
— CCMSI's Chief Operating Officer, Rod Golden
LevelUP at CCMSI
LevelUP Career Pathway Program
Are you interested in taking your career to the next level?  At CCMSI, we are committed to developing talented claim professionals through our on-the-job LevelUP Career Pathway Program. 
CCMSI's LevelUP Career Pathway program prepares participants to successfully assume the role of a workers compensation claim adjuster.  The LevelUP Training Program includes developmental tools, resources, on-the-job experiences through personal study, claims e-courses, work shadowing seasoned adjusters, and planned experiences.  Each participant is provided feedback to ensure their success with assessments of their knowledge and ability to apply the skills learned. 
The LevelUP Career Development Program includes established timelines for the various phases and generally takes about one year to complete; however, we recognize that each individual may progress at a different pace throughout the program.
If you are an individual who has a long-term goal of a successful career as an insurance adjuster, and you possess critical thinking skills, the ability to manage and organize your time, excellent written and verbal communication skills with a focus to customer service, we would encourage you to apply for consideration in our LevelUP Career Development Program.  You can find current openings for LevelUP Claim Associate positions by clicking here or by clicking apply on our website. 
Fast Track your career at CCMSI!
Internships
An internship for College students at CCMSI empowers you to interact with Senior Level Adjusters to build relationships with our clients while developing your potential with hands-on experience in the claims industry and opening the door for career opportunities.
Corporate Headquarters
Danville, IL
business
2 East Main Street
Towne Centre Building
Danville, IL 61832-5852
call
(800)252-5059
(217)446-1089
print
(217)443-0927
Locations
From the heart of New England to the California coast and all parts in between, we cover the country with a network of regional offices, combining national vision with local service to deliver what matters most.
location_on Birmingham, AL
location_on Little Rock, AR
location_on Scottsdale, AZ
location_on Concord, CA
location_on Irvine, CA
location_on Greenwood Village, CO
location_on Maitland, FL
location_on Des Moines, IA
location_on Chicago, IL
location_on Danville, IL
location_on Lisle, IL
location_on Overland Park, KS
location_on Louisville, KY
location_on Metairie, LA
location_on Reading, MA
location_on South Portland, ME
location_on Okemos, MI
location_on Minnetonka, MN
location_on St. Louis, MO
location_on Jackson, MS
location_on Charlotte, NC
location_on Manchester, NH
location_on Linwood, NJ
location_on Wall Township, NJ
location_on Albuquerque, NM
location_on Carson City, NV
location_on Las Vegas, NV
location_on Reno, NV
location_on Dublin, OH
location_on Salem, OR
location_on Sewickley, PA (VCM Office)
location_on Nashville, TN
location_on Dallas, TX
location_on Houston, TX
location_on San Antonio, TX
Benefits
At CCMSI, we provide more than a weekly salary. Total rewards are a combination of salary, health care benefits, wellness programs, retirement plans and work/life benefits.
CCMSI recognizes that a competitive base pay and benefits that fit your needs are key ingredients in a true work/life balance. From physical wellness to community wellness and everything in between – CCMSI focuses on creating a well-rounded experience for our employees.
During your career at CCMSI, we support your financial future and offer unique long-term plans. And, we believe in supporting the advancement of your personal growth.
Employee Wellness Programs
Wellness for a better you!
Physical Wellness
CCMSI provides for employees' physical well-being by offering our employees and their families a comprehensive benefits program in a safe work environment to encourage healthy lifestyle choices and physical well-being.
Health, dental, vision coverage

Life insurance
Safe and secure work environment
Personal health coaches – United Healthcare
Health club discounts
Smoking cessation – EAP
Substance abuse counseling – EAP
Wellness events
Real Appeal – Weight Loss Management
Rally Fitness App
Espresa – Wellness challenges
Financial Wellness
CCMSI invests in our workforce by providing a broad range of benefits and offerings to assist employees in preparing for a secure financial future.
Employee stock ownership plan (ESOP)

401k plan
Flexible spending accounts for health, dental, and dependent care
Health savings account (HSA) option for benefits
Disability coverage – long and short-term
Life insurance for employee and dependents
Life Lock credit monitoring
College scholarships for employee's children
Critical illness insurance
Financial assistance counseling – EAP
Travel assistance plan
Total rewards statements distributed annually
Healthy Work/Life Wellness
CCMSI is committed to ensuring employees maintain a healthy work/life balance to reduce stress, by offering a variety of programs aimed at supporting overall work/life wellness.
Employee assistance program — Perspectives, Ltd. — (800) 456-6327
Paid time off – vacation days, elective days, sick days, 11 holidays including your birthday
Employee service recognition rewards
Employee parties and activities
Paid travel for 15+ service anniversary recognition
Additional milestone anniversary paid time off
Sporadic early dismissal days
Flex scheduling (where available)
Ergonomically safe work environment
Community Wellness
CCMSI encourages employees to give back to the communities in which they live. We offer opportunities for employees to become involved in their communities by sponsoring a number of charity based community programs that give back to those less fortunate. CCMSI also maintains a disaster relief fund for catastrophic losses due to natural disasters.
United Way
Blood drives
Habitat For Humanity
Adopt a Family
Adopt a cause
Various local charities
Disaster relief fund
Professional Wellness
CCMSI supports staff in reaching their professional development goals through continuing education certifications, licensures, and internal course offerings. CCMSI has a strong history of promoting employees from within and offers career development opportunities to its valued staff.
Professional licensures/certifications
Educational offerings
Promotional opportunities
State-of-the-art systems
CPE reimbursement
Promotional opportunities
Manageable caseloads
Professional designation & certification bonus program
Employee Benefits
From health and dental to life insurance and planning for retirement, CCMSI offers competitive benefit programs that meet the needs of you and your family.
Outlined below is an overview of available benefits at CCMSI. Benefits vary depending on employment status. Employees who are scheduled to work 30 or more hours per week are eligible for benefits. There is a 60 day waiting period before benefits begin.
Health
CCMSI offers three health plans, a PPO, a Non-PPO, and a HSA for individual and family coverage along with In-Network and Out-of-Network coverage levels including a prescription drug plan. CCMSI contributes up to 80% of the premiums.
Dental
Our dental plan allows you and your covered dependents to see any dental provider for services and charges are covered at 100%, 80% or 50% of the usual and customary charges. The plan also includes orthodontic coverage for dependent children.
Vision
Our vision plan offers coverage for a variety of vision care needs. Benefits cover eye exams, prescription eyeglasses, contact lenses, and more.
Time Off
CCMSI recognizes the need for employees to maintain a healthy work-life balance for rest and relaxation. New employees receive 4 weeks of paid time off in their first year of employment. This includes 2 weeks (10 days) of vacation and 2 weeks of elective days. Additionally, employees are eligible for 11 paid holidays per calendar year (including your birthday).
Life Insurance
As part of our employees' overall benefits coverage, CCMSI provides a minimum amount of life insurance coverage. Employees may also choose to purchase additional coverage for themselves, their spouse, civil union or domestic partner, and eligible dependent children.
Disability
CCMSI provides long-term disability coverage for eligible employees. Employees may also purchase additional short-term disability coverage.
Flexible Spending Account
Employees of CCMSI have the opportunity to enroll in a flexible spending account that allows for payment of medical and/or daycare expenses before taxes. Debit cards are available for employee convenience.
Employee Assistance (EAP)
CCMSI offers Perspectives, an Employee Assistance Program for confidential counseling services to all employees and their family members at no cost. EAP counselors can assist with relationship conflicts, emotional stress, alcohol and substance abuse, workplace problems, financial issues, and more available at: www.perspectivesltd.com. 
Retirement Planning
CCMSI is proud to be an employee-owned company. CCMSI's savings and retirement benefits are designed to help you reach your future retirement goals.
The plans include:
Employee Stock Ownership Plan (ESOP)
The ESOP is designed to provide beneficial ownership of CCMSI stock to employees after one year of employment–the people who are primarily responsible for CCMSI's success. Beneficial ownership means that employees do not directly own shares of CCMSI stock, but employees do have shares held by the ESOP that are specifically allocated to them.
The ESOP is intended to provide employees with a meaningful stake in CCMSI, additional economic security and, ultimately, an additional source of retirement income. The ESOP gives employees a unique opportunity to acquire a beneficial ownership interest in CCMSI stock at no direct cost to them.
The benefits employees receive from the ESOP will depend, to a great extent, on CCMSI's profitability and the employee's length of employment with CCMSI. In general, the longer an employee remains with CCMSI, the greater their interest in the ESOP will be. CCMSI hopes that this beneficial ownership opportunity will give employees a personal interest in CCMSI's success.
401(K) Retirement Plan Services
CCMSI's 401(k) is an auto-enrolled program in which all employees are eligible for a pre-tax deduction to save toward their retirement through a voluntary 401(k) account.
Development
CCMSI employs over 1,400 dedicated, loyal, and talented individuals in 34 offices across the United States. We encourage them to broaden their knowledge and skills, to keep current with changes in insurance education and to increase their potential for assuming greater responsibility.
Continuing Education
CCMSI encourages and supports our staff with continued education. Whether it is in their respective Workers' Compensation and/or Liability fields or CCMSI's corporate divisions, we are focused on our employee's career development by assisting with their education programs and associated testing and licensing fees.
Job Skills Training
In addition, we offer employees the opportunities to broaden skills needed to excel in their current role. Claims, Underwriting, IT/Systems and Financial Services are just a few of the many areas where job skills training are available.
Professional Designation Bonuses
CCMSI's Professional Designation Bonus Program is intended to financially reward employees for achieving professional designations in the specific industry for pre-determined designations
LevelUP Career Pathway Program
Are you interested in taking your career to the next level?  At CCMSI, we are committed to developing talented claim professionals through our on-the-job LevelUP Career Pathway Program. Click here to learn more!
I actually first interviewed with CCMSI in 1997 at the suggestion of Dan Eversole in the St. Louis office. He and I worked together previously at a small monoline workers' compensation carrier before he came to CCMSI in 1995 and we had kept in touch over those few years. Following my initial interview in 1997, I decided to stay put at my then-current company for a while, but eventually re-interviewed at CCMSI in 2001. Dan had actually called me in 2001 to ask about an adjuster we had both worked with previously who had applied at CCMSI. He mentioned casually that there was also a Claim Supervisor position open at CCMSI, but said, "But I don't suppose you're interested in that." I told him that he shouldn't be so sure…
I started at CCMSI as a Claims Supervisor in August 2001 and became Claims Manager a year or so later. Following the acquisition/consolidation of NGS, OHMS and MSUSA in 2002-2003, I was asked to become a member of the new Corporate Claim Committee. It sounded like a great opportunity to work with people in other regions and have the chance to help develop and expand the Corporate Claim Best Practices for the company. There were 6 of us on the original CCC back in 2003 and 4 of those original 6 are still on the CCC 12 years later! This is a great testimonial to the culture of CCMSI. We often talk about the tenure of our employees and clients and how important that can be to the organization. I believe the tenure of all the current CCC members allows us to make quicker progress on important issues.
CCMSI has given me the opportunity to work with a wide variety of clients, small and large. I have been able to handle claims, supervise claims and work with clients in an account management role. It would have been hard to imagine when I started that CCMSI would have some of the large regional and national clients we have now. For me personally, I've been able to become involved with clients and our company in ways that I could have never imagined 14 years ago. We have all seen the complexity of handling claims for our clients increase over the years due to a variety of reasons – Medicare, financial crisis & cyber-attacks. Because we do what we do, CCMSI helps our clients through these dangerous waters, and I like being a part of that.
I initially started working for CCMSI is November of 2009 and left in October of 2013. I really enjoyed the company, employees, and work environment. I went to pursue other opportunities. I didn't realize at the time how important benefits and work environment truly were to overall happiness with employment. I was fortunate to come back in July of 2018 as Underwriter in Metairie, LA office once again. I swear I had trouble keeping the smile on my face each morning coming into the new and much nicer building that they relocated in after my initial departure. CCMSI benefits are amazing and one of kind if you ask me, and I have worked for couple of different companies and those companies overall benefits and employee satisfaction didn't even compare. I was not shocked to see CCMSI get a "Great Place to Work" certification. The managers and HR department really go out of their way to make sure each employee is taken care of and request feedback on how they can improve. The overall growth and expansion of this company since I left has amazed me as well. The number of clients and members that have joined or stayed with CCMSI is testimonial itself to the reason we are a leader among third party administrators. Working with CCMSI has given me the opportunity to work with a wide variety of clients and gain further experience and knowledge that helps me grow into a more experienced Underwriter. Realizing that you are part of an organization that takes care of it clients and employees makes this a wonderful place to work.
I have been with CCMSI for going on 10 years. I started out in the Bill Processing Unit and moved to the Claims Department as a Medical Only adjuster after three years in billing. After another three years in Medical Only I decided to make the jump to indemnity through the Level up program. The room for advancement was very appealing as I wanted to continue my growth within the company. The program definitely sets you up to succeed. Starting as a Claim Associate I allows you to familiarize yourself with the system, by reviewing medical records and bills, and it also eases you into the claims process. You get the opportunity to start interviewing claimants, learning the state forms, and getting used to frequent client communication without having the full claim load of a Claim Representative. I was in the Claim Associate I position for right at 12 months and then I was promoted to a Claim Associate II. This was a smooth transition because I felt that I had been in the Claim Associate I position for the right amount of time to really feel more comfortable with my claim load and it allowed me to gradually increase the amount of files and jurisdictions I was handling. After being in the Claim Associate II position it was a fast progression. I was promoted to a Claim Representative after 4 months. I feel that being able to transition through the Level Up program definitely prepared me to be in the Claim Representative Position that I currently am in.
I was hired into the Level Up program on 11/9/20. Upon my hire, I was enrolled in CCMSI-U for training along with amazing support and training from my team. With all the resources available, it makes it very easy to succeed. Thanks to Level Up along with hard work, I was able to be promoted to a Level Up 2 on 5/10/21 and then to a Claim Representative as of 8/16/21. I would highly recommend Level Up to anyone who is interested in making a career for themselves with CCMSI.
I was drawn to the Level Up program because I was fresh out of school and looking for a career where I could grow within a company. This program was the perfect opportunity to hop into as there are so many opportunities to grow & better myself professionally. The thing I like the most about the program are the Adjusters & Supervisors that I work with, as they are super helpful when teaching you things you need to know to do the job. I came into the position with no workers' compensation experience and now with the help of the Adjusters and Supervisors, I am handling my own claims. I started in the Level Up program in November 2020 as a Claim Associate I and am on track to graduate from the program as a Claim Representative in December 2021.
Open Positions for CCMSI
Open Positions for VCM
Open Positions for Internships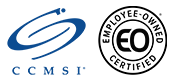 CCMSI is an Affirmative Action / Equal Employment Opportunity Employer