Welcome to Innovation
At VCM, A CCMSI Division, we pride ourselves on our ability to create effective and customized claims management designs. We combine our personalized approach with cutting-edge technology and good, old-fashioned customer service. This winning formula results in an unbeatable strategy and cohesive team that can aid in the success of your program.
Get VCM If You:
Need to outsource claims to a creative and flexible partner
Need unbundled claims support services
Need to build an in-house claims team
Need to show your Board of Directors meaningful program performance and trending reports
Need to build education sessions for your insureds
Claims History Payment Link
Please click to the right to access the payment portal for paying by credit card for your claims history request.  Thank you!
Company News
June 2021-June 2022: We are proud to announce that we are re certified as a Great Place to Work for a fourth year in a row!
June 2020-June 2021: We are proud to announce that we are re certified as a Great Place to Work for a third year in a row!
June 2019-June 2020:  We are elated to announce that we are certified as a Great Place to Work for a second year in a row!
June 2018-June 2019:  We are thrilled to be Great Place to Work Certified!
February 2018: This month marks the 40th anniversary of CCMSI. Looking forward to many more successful years!
January 2018: It has been an exciting month of growth at VCM! We are happy to welcome three new claims support staff members, Devin Stromberg, Jenna Tomashosky, and Tyler White.
December 2017: VCM is very excited to begin our new partnership with Ardent Health Services, a national health care company with facilities located in FL, ID, KS, NM, NJ, OK, and TX.
Where We Will Be in 2023
Crittenden
April 12-14, 2023 -Nashville, TN
Vermont Captive Insurance Association (VCIA) Annual Conference
August 7-10, 2023 – Burlington, VT
American Society for Healthcare Risk Management (ASHRM) Annual Conference
October 1-4, 2023 – Minneapolis, MN
Cayman Captive Forum 2023 (IMAC)
Date TBA 2023 – Grand Caymans
Our Next Conference: Crittenden Conference
Medical Malpractice Services
How Can We Help You?
From comprehensive claims management to unbundled consulting services, VCM is here to help.
Medical Malpractice Claims Management
Our top priority is to remain open to your needs.

Allow us to be your partner in running a successful insurance company.

In order to develop services that meet your specific program requirements, we believe in combining flexibility and creativity with claims and litigation management best practices.
We approach our services from two levels:
Through dynamic and proactive claims and litigation file management (in partnership with you and defense counsel); and

By working as your partner and providing performance and trending reports to your Board.
VCM Consulting Solutions ("VCS")
VCM recognizes that, sometimes, it is financially advantageous for healthcare professional liability programs to manage their claims in-house, rather than outsourcing to a TPA.

Even if claims are managed in-house, you may still want advice, a process audit (to be sure your in-house program is following guidelines and best practices), or specific project work performed by an outside source.

It is our philosophy that our knowledge should be available to all programs, no matter the claims structure. For this reason, VCM will unbundle all of our TPA services to suit your needs.

As most TPAs will not unbundle their services, this is another example of why VCM stands out from the rest in our market.
Risk Management Support Services
In the world of healthcare, most companies are being asked to do more with less (and succeed).

Many in-house and captive or self-insured programs are now searching for solutions.
How can we help?
VCM is proud to announce our newest service, Risk Management Support Services.

Allow our experienced risk management personnel (at times in conjunction with a chosen national vendor) help your risk management department wade through the waters of education, compliance, loss control, all while proactively managing the landmines of legal, claim, and nursing-related issues that can arise.
Program Design Development
Are you looking to build your claims team in-house?

Do you need help integrating your system to accommodate merging facilities?

Has your organization recently included physician coverage into an existing program?

In any of these cases, allow VCM to help.
These changes require significant program design and redesign. We use a three-prong approach to execute these services:
Actively Listen

Analyze and Recommend

Build and Implement
Technology and Trideo
VCM has partnered with a team of talented web developers to design and build the medical-malpractice focused Risk Management Information System called Trideo.
Experience the ease and innovation of Trideo, a comprehensive HIPAA-compliant Risk Management Information System that enables superior collaboration among multiple parties. Through Trideo, hospitals, risk managers, insurance brokers, and attorneys can work together securely from any location. Trideo's claims management capabilities were designed by experienced claim and regulatory law professionals to unify all of your critical compliance, data management, security, and reporting processes into one centralized web-based solution. Gain the freedom to manage Events, Claims, Lawsuits and MMSEA Section 111 Reporting electronically—anytime, anywhere.
To learn more, please contact the VCM Marketing Department at (724) 934-6638 or by filling out the email form below.
Partners
At VCM, we know that we are one member of an extensive team of experts. We partner with industry experts to be an integral part of the success of your program. Some of these programs are:
Associations
Technology
About VCM
Clare M.Bello, Senior Vice President, CCMSI; VCM Division Leader
Hello! I am so glad that you are taking the time to learn more about VCM and who we are.
From 1991 until 2002, I practiced law in Pittsburgh, PA. I developed a practice which encompassed both professional liability defense and insurance coverage regulatory work. It was this background that brought me to begin VCM in 2002, during the height of the medical malpractice insurance crisis. In 2002, VCM entered the TPA market determined to be different from everyone else. We succeeded!
Innovation; collaboration; partnership and technology quickly became the cornerstones of the VCM business plan and model. As a result, VCM has risen to the top of our industry in the management of professional liability claims. The credit for that excellence goes to our senior managers and their dedication to the growth and quality of our services as well as to our talented staff. They make certain that your program is specifically designed for your needs. Then they stay close to the program to be sure that as your needs change; so do our services so that we grow with you. To learn more about them, please see our LinkedIn Company Page.
At VCM we are passionate about the business we are in. We are respectful of our clients who choose to manage their own risk. We work hard to be part of the management of the insurance program as a whole; as well as providing top-notch professionals for the day to day management of your claims.
In line with that philosophy, we work as consultants with healthcare professionals who manage their claims in-house. Through our consulting, we have established strong collaborative bonds throughout the healthcare industry.
I am honored to be invited to speak at numerous conferences around the world. I believe that this industry improves when ideas and knowledge are shared and challenged. Check back here under our "Where We Will Be" section, and if I am speaking, please join me to share your knowledge and to say hello!
Merger Into the CCMSI Family
One of the best evolutions and growth moments in our history was when we partnered and joined CCMSI in August of 2014. By becoming a CCMSI Division, VCM became part of a corporate family that shares our corporate philosophies and also allows us to offer more services to our clients. While VCM is the professional liability division of CCMSI, as part of CCMSI, we now can offer claims services for all lines of coverage that may be in your captive, including Workers Compensation; Auto and Property coverages. For more information about the additional lines of insurance we can now offer to you as a TPA, please check out the CCMSI homepage.
Request a VCM Demo
Yes, I'm interested in hearing more about VCM.
Give us a little information about you and your company and we will contact you to set up a personal demonstration of our services and Trideo.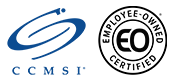 CCMSI is an Affirmative Action / Equal Employment Opportunity Employer